Stronghold A Band with a Message
"Stop Runnin' From God!"
Stronghold is a Christian southern rock band. This music ministry was started in 2002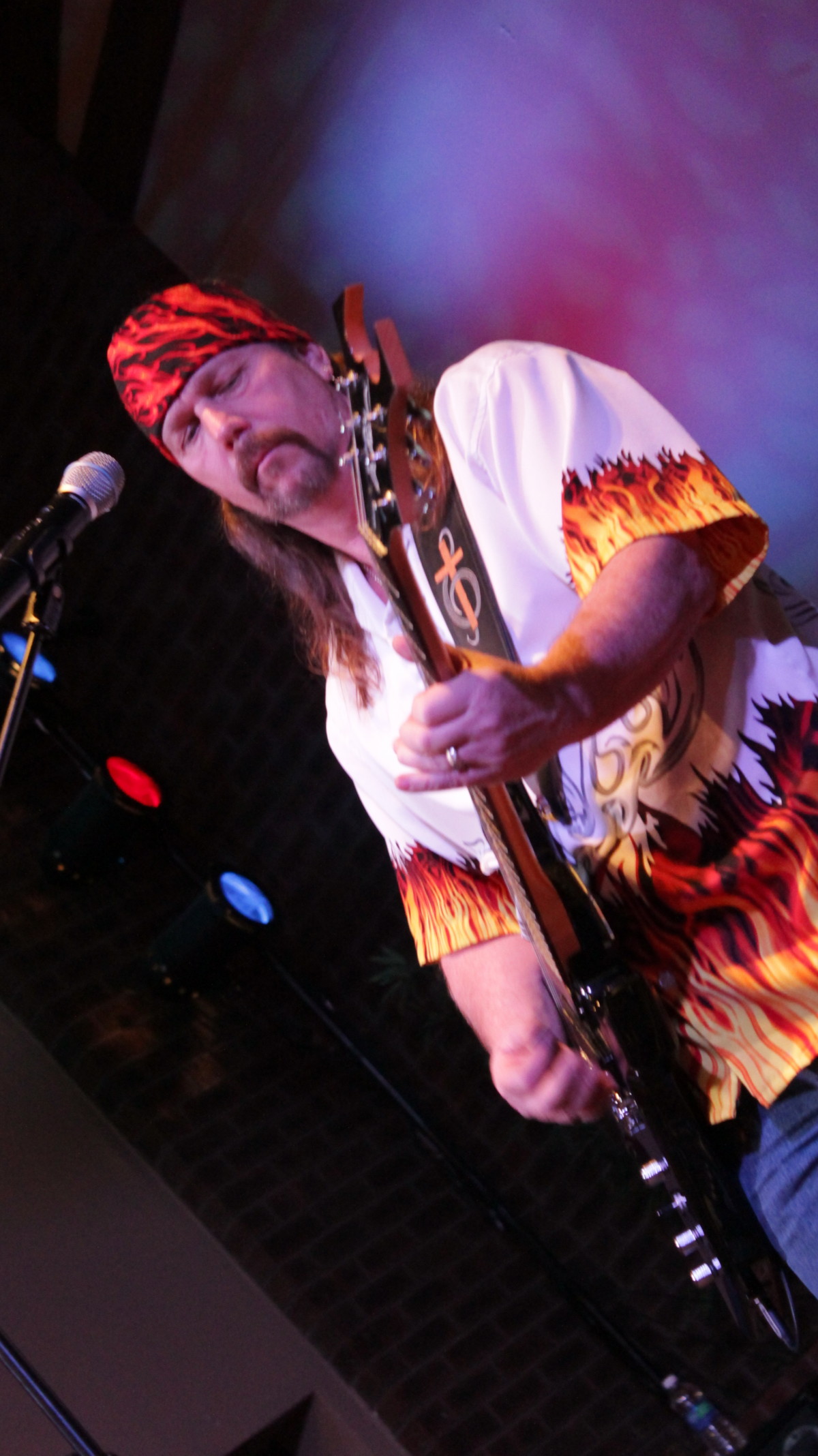 when Mickey Rose, the worship leader at Ivor UMC, began taking his worship team to other churches and sharing their music ministry. As their popularity began to grown, he named the band Stronghold. After a couple of years, Mickey along with Pastor Don Chapman and Pastor Ken Thames began co-writing songs for a CD which was finally released in October of 2006. Their debut CD, "A Cross And A Crown," was nominated for Contemporary Artist of the Year at IndieHeaven.com, the leading organization supporting Independent artists in Christian music based in Franklin, TN.
Stronghold began to receive invitations to play at events outside of the church. Playing at outdoor events such as Suffolk's Peanut Fest and Driver Days, have allowed Stronghold to share the Word and give their testimonies in an arena where there were plenty of" unsaved" folks. "It is a great thing to get out and evangelize like that," says Rosenfeld.
In the summer of 2009, Stronghold was asked by a Christian Motorcycle Ministry to play at a Biker Revival in Chesapeake. They jumped at the opportunity, not realizing they'd fall in love with the freedom that biking gives them. A year and a half later, Mickey, his wife Ann; along with Jim and Debra Manner started "Liberty Biker Church" in Isle Of Wight County. "I saw what a great need there was for this kind of ministry, and really felt this was what the Lord had for me," Rose said.
Mickey continued writing songs as led by the Lord, and released a second CD in October of 2011.Called "Stop Runnin' From God," its music carries a message challenging the church to get back to preaching and teaching the WHOLE TRUTH in God's Word and stop trying to be politically correct or tolerant of the very things God has condemned. One of the featured songs on this CD calls on the church to take a more prominent stand in evangelizing outside the safety of the stained glass house.
Another one of its songs, "On The Day Christ Returns," received a "Thumbs Up" for 80's Style Christian Rock from a panel of industry experts at the Indie Ignite Conference held in Nashville July 2011. West Star Media Group has sent the song out to 2000 "On Air" radio stations a cross the country gaining more exposure for the band. It has landed "Air Play" on various Christian radio stations from Maine to California.
Here in Hampton Roads, many of Stronghold's songs are being played on WFOS 88.7 FM In Chesapeake, and WRPC 103.7 FM in Newport News/Hampton.
What makes Stronghold Different? That answer is simple. They are not a "one dimensional" band. Their varied style of music includes easy listening, acoustic ballads, blues, classic/southern rock, and 80's rock … giving them the ability to fill a variety of needs ranging from leading worship in a church service, to encouraging and inspiring people at their concerts, as well as entertaining audiences at festivals and county fairs. Even though they are not one dimensional they do have one goal, and that is to share the good news of Christ Jesus with every audience no matter what the venue.
Stronghold is Mickey Rose - Guitars, Lead vocals, Ann Rosenfeld - Keyboards, vocals, Ike Evans – Bass, and Sharon Payne -Drums.
Stronghold's up coming schedule:
May 5th – Run For The Son – Suffolk, VA
May 12th – God's Garage Band – Hampton, VA
June 2nd – The Fuse Box – Va. Beach, VA
June 9th – Rock 'N' Relief – Smithfield, VA
Learn more about Stronghold, visit their website www.strongholdband.org or on
Facebook at www.facebook.com/strongholdband